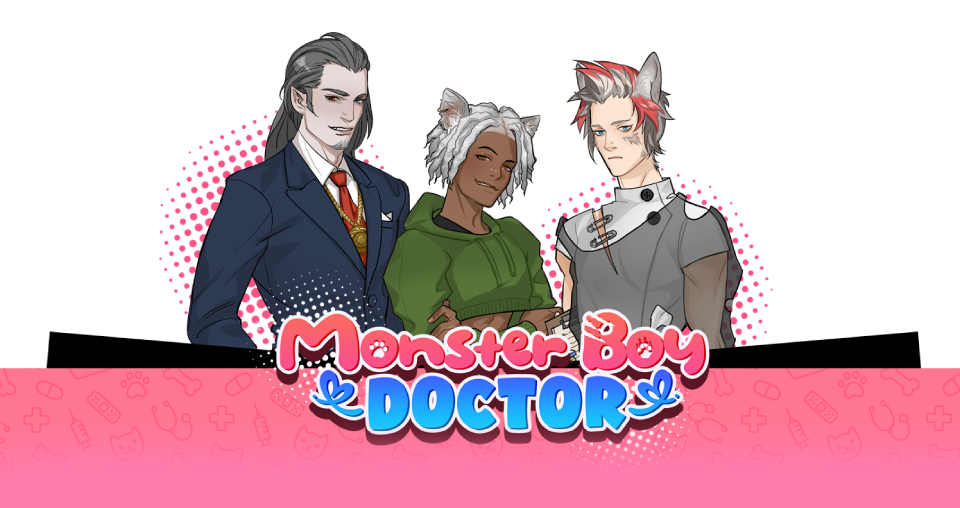 Monster Boy Doctor
The Typo-fixed version is here!
---
Yo! Its Pseudo here!
So as promised, the typos has been fixed by me with the best of my abilities, after a back-and-forth testing with the director on testing, everything seems to be fine and dandy with no crashes or points counting error like the 1.0 build.
The major fixes done here are as follow:
Change the infamous "Moonkowas" to the normal, "Moonko was".
The dialogue where Moonko says, "no can do" his reference to Zaru is supposed to be Junior Kotamu, but considering the nature of typos in the 1.1 version, it was written as "Jr. Kotamu", which was confused by many as a typo, because it could have been easily "Dr. Kotamu". So the Junior word has now been written in full wording, with the addition of some altered dialogues to clarify some confusion.
The final line at the end of the Moonko ending has been fixed grammatically.
General comma fixes. Some may still exist.
Brenda Sr. said, "I am mawwied with child", which I thought was a common phrase among the english speaking community, as "Married with Children/Child" is a phrase used by people to tell that they are married and have a child (there is literally an 80s sitcom with that title), but apparently, some non native english speakers were confused and sort of worried by this phrasing. So, in order to avoid major headaches, whether it be from trolls or just genuinely concerned people, the dialogue have been slightly altered.
Beattle is not a typo. It is a reference to "Seattle" city, and not a reference to Beatles or Beetles or the infamous monster, Beelzebub.
Bram Stork is not a typo. I know the real authors name was Bram Storker, but this is a universe of monster boys and stuff, so I made him a referential Stork-boy. I believed the "dip my feathers" line would clear it, but apparently there were still some confusions.
Anyway, that should be it. In case you had troubled with the typos earlier, most of them seems to fixed. We will be gearing up for an android release, and will update to you about it there. Before I go, here are some reccomendations from me to watch, play, listen, or read in case you wanted any reccomendations.
Movie: Nine Queens (2000) [I have a soft spot for con films, stuff like Logan Lucky, Khosla Ka Ghosla, Ocean's Eleven, and especially The Sting, which this Argentinian film seems to be heavily inspired by, always excite me, and this film is no different.]
Music: Mambo Italiano (cover) by Rosemary Clooney [I like the Dean Martin version, don't get me wrong. But Rosemary Clooney version has a charm of its own.]
Video Games: True Love (1995/1996) [This 90s bishoujo eroge classic, initially released for PC-98 and then for Windows, has some of the most calming soundtrack that I have ever heard. The theme of Mayumi Kamijo in particular is stuck in my head till this day.]
Anime: Death Parade [Kind of a famous one, but in case you haven't watched it, you should. It has some of the most heavy hitting themes and episode 8 and 9 in general broke my heart in two.]
Manga: Paranoia Star by Suehiro Marou [This ero-guro managaka can be a difficult read sometimes concering the subject matters he covers, so I won't blame you if that kind of stuff is not to your liking. Though for those who do/can read Marou's style, I would reccomend this surreal short story collection the most, as the artwork is one of the most gorgeous things I have seen in my life.] For those who are not interested in reading something as Dark as Paranoia Star, I would reccomend reading Handsome Girlfriend by Shoujo queen herself, Wataru Yoshizumi, the mangaka of Marmalade Boy. Now, whether or not it is to the quality of Marmalade Boy is debatable, but Handsome Girlfriend is still a comforting romance (mixed with occasional spice and comedy).
TV Shows: Garth Marenghi's Darkplace [Like a lot of youtubers have covered it and called one of the best parody shows of all time and I agree. Shit had me laughing even in its bonus footages.]
Podcast: Playstation Access Podcast [If you have four host on a podcast, then it is absolutely essential for all of them to have personalities you can jive with and them to have great chemistry with each other, and this one does. And the 'its time' chant is just too cute.]
Novels/Books: Tokyo Decadence by Ryu Murakami [It is a shame that out of his vast catalogue of like 30 novels and 10 short story collections, only 8 novels and this one short story collection is available in english. But let me tell you one thing, his writing is solidly addictive.]
Paintings: Unter den Linden Street in Berlin by Anna Bilinska-Bohdanowicz
Anyway, that was it for now. See you all during the android release, Funigami games have some other exciting games on the upcoming catalogue as well, so look out for that as well.
- Love, Pseudo64
Files
MonsterBoyDoctor-1.1.2-mac.zip
65 MB
Nov 17, 2022
MonsterBoyDoctor-1.1.2-pc.zip
80 MB
Nov 17, 2022